We have spent the whole spring sighing for the warmth and the good weather. We have asked for so much, that it has finally arrived, but all at once and without half measures! That's why we feel tired right now, our legs weigh a ton and, although we woke up before, we don't have any vitality … That's why today we offer you the best tips to lighten your heavy legs.
The most important factor that determines venous insufficiency and the appearance of vascular lesions is hereditary. However, if you avoid some bad habits and replace them with good customs you can prevent their development.
Drink plenty of water and eat a healthy and balanced diet, low in salt to prevent fluid retention.
Also sign up for cold infusions and fruit juices rich in Vitamin P (vasoprotective) such as grapefruit, pomegranate, grapes or cherries.
Always sleep with your legs raised about 5-8 cms.
Finish the daily shower with a jet of cold water on the legs, forming ascending circles from the ankles, you will notice a great relief.
Do not wear tight clothes or shoes, socks or socks that "choke" the foot, leg or ankle, because they hinder circulation.
Do not wear very high heels or excessively low shoes because they prevent the calf muscle pumping.
Do not stay too many hours in the same position, either standing or sitting. If you had to do it try small walks every 2 hours and put your legs up at the end of the day, to encourage the return of blood is correct.
If you are lucky enough to live near the sea, walk through the sand, with your feet submerged, stimulate circulation thanks to the resistance of the water and the temperature contrast. If you are in the pool, sit on the edge and soak your legs.
If you notice that your legs are swollen, or you know that they will be swollen at the end of the day, choose wide or steamy garments that do not put pressure on your skin. Avoid those that are too tight and so you will improve your blood circulation.
Supplement your routines with a vasoprotective medication.
They can help you

Defatigant Gel, from Gerard's. Soothing tired legs, this cold gel, quickly absorbed, is perfect for the summer season. It provides relief in legs, ankles and feet tired and fatigued for too many hours of standing, high heels, sedentary lifestyle and intense heat. The effectiveness is guaranteed by the synergy of two plant assets: menthol and blueberries. It can be used as many times a day as necessary, for a crash action. Formulated with Menthol Extract, with refreshing and decongestant properties, to reduce swelling and fatigue and Cranberry Extract, with a vaso-protective action. Improves skin microcirculation and counteracts fluid retention. In addition to offering a pleasant feeling of well-being, the legs recover their firmness and lightness. Its price: € 66.20 / 250ml.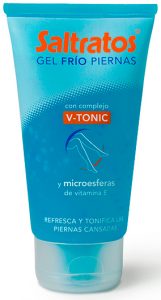 Cold Gel Legs, from Leaps. It refreshes and tones the tired legs thanks to its immediate and long-lasting cold effect. Its effectiveness is demonstrated by in vivo studies: it reduces the sensation of heaviness and pain in the legs by the action of menthol and the V-Tonic complex, a unique combination of vegetable essential oils. Its formula incorporates microspheres of vitamin E with moisturizing properties that release its contents during massage. It does not stain or leave oily skin.

FisioVen bio Gel, from Aboca. Biological gel that gives tone and elasticity to the epidermis and reduces the feeling of heaviness of the legs, especially at the end of the day. Its effectiveness is due to the functional synergy of its assets, among which are Rusco and Castaño de Indias, Grapevine and Centella. It also has Chondrus crispus extract, a red algae that exerts a natural gelling action that forms an imperceptible film that maintains the properties of the functional substances it contains throughout the day. Mint essential oil completes the formula, with refreshing action. Your price: € 14.90 / 100ml.

Essential Shock Intense Cryo-Gel, from Natural Bissé. Cryogenic gel with an intense localized and lasting cold effect that offers multiple benefits on the skin. Thanks to the combination of eucalyptus and menthol it provides a pleasant sensation of freshness that helps to relax the muscles and relieve tired legs. It is perfect after exercising or when you feel some area of ​​the body tense or fatigued. By stimulating the circulation, it helps to tone the skin and improve the appearance of cellulite, so it is especially indicated as a complement to reducing, anti-cellulite or rearming treatments. Its light texture and rapid absorption does not dry out, nor does it leave residue on the skin. Your price: € 54 / 15ml.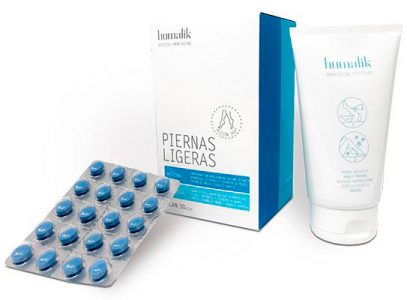 Light Legs Plan, from Humalik. Complete plan to activate the circulation of the legs and combat the feeling of tired and heavy legs. The combination of the tablets and the gel have a double internal and external effect for a global and complete action on the legs. The capsules contain ingredients that favor normal circulation and facilitate venous return in the legs. Taken in the morning, the tablets provide ingredients that activate the circulation from the first hour of the day. The cooling gel contains a mixture of extracts that reinforce and prolong the action from the outside, and menthol, which confers the cooling effect. Used in the evening, it gives maximum sensation of light legs and recovery. Its price: € 24 (60 tablets and a 150ml tube).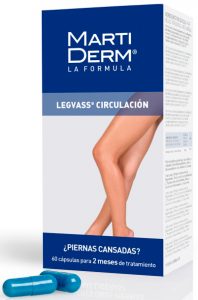 Legvass Capsules, from Martiderm. Food supplement that helps improve blood circulation and other circulatory disorders that result in fluid retention (cellulite, dark circles …). In addition, it reduces the feeling of heaviness and fatigue of the legs.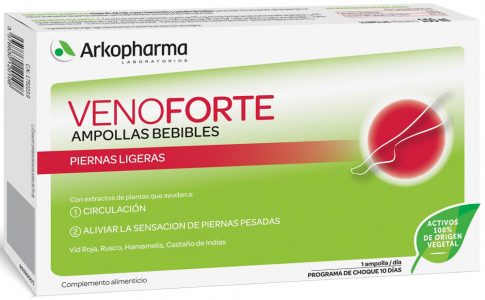 Venoforte from Arkopharma Herbal food supplement and vitamin B2. It can be of great help in cases of feeling swollen legs, heaviness and / or tired legs. It helps to relieve tiredness and heaviness in the legs. Provides, quickly, a pleasant feeling of well-being and lightness. It is also recommended for very high temperatures or for people who, due to their work, are forced to stand for long periods. Its price: € 12.90 / 10 ampoules.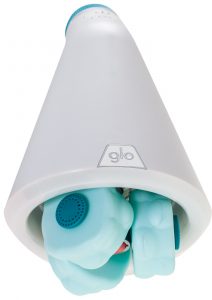 Cool legs, from Glo910. This massager is based on the benefits of cold massage to produce a vasoconstrictor effect. Among its main benefits it highlights that it lightens heavy legs, redefines the contour of swollen legs, prevents the cellulite process from originating, by reducing edema, dissolves pain and fatigue, relieving muscle pain, if you apply it after Anti-cellulite massage with the Cellu-Active head, enhances the reducing effect and promotes energy, providing a pleasant well-being. Your price Cool Legs head: € 49.90. Glo910 basic model: € 199.
You may also like
Get the legs more rested and lighter and … fly!
Swollen or heavy legs? Lighten them up!
Feet and legs painless and so fresh!