With the new season, sometimes we like to change our appearance radically and that is why we resort to changing our hair color. It is also convenient to resort to especially moisturizing active ingredients, such as argan oil, to recover the skin and give it flexibility and youth.
These are the two topics that we have talked about today in our monthly collaboration in the radio program Via Lliure from RAC1. In this post you will find the audio section of Active Beauty in Via Lliure the audio document of the radio program (in Catalan) and we will also develop the theme of hair coloring because that of argan oil can be read by entering its link, which we published a few weeks ago. Can you come with us?
Hair coloring is one of the key elements in the image of a woman. Being blonde, brunette, brown or redhead is not only a differential factor compared to the rest, it also defines a way of being and expression. If you want to change the color of your hair or have decided to put on your gloves and dye your (email protected) at home, we explain how…
There are different types of coloration depending on the degree of coverage and the duration of the results:Fleeting coloration: Light and fleeting, it serves to provide hair color with a temporary modification that erases the first wash. It is the least aggressive for hair.
Its objective is to provide reflections, revive the natural hue of the hair or a permanent or semi-permanent coloration. It also allows you to try a tone before finally adopting.
The dyes used have a weak affinity with keratin and remain on the surface of the cuticle. The size of the pigments is studied to prevent them from penetrating the hair.
It is removed in the first wash, has no visible root effect and does not contain oxidants or ammonia.
Color tone on tone or semi-permanent:Durable and without root effect. It is used to brighten hair, soft highlights and cover gray hair without completely losing sight of the natural color.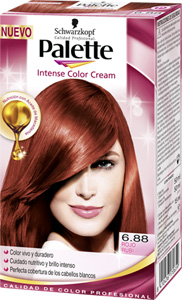 It is a coloration without ammonia. The dyes penetrate inside the hair, without reaching the center of the hair fiber.
Tone-on-tone technology colors hair 4 to 6 weeks.
Very suitable to cover the first white hair without radically modifying its natural color, or by who gives priority to shades with reflections (reddish, plum, mahogany) that last and stand out.
Permanent coloring: Only permanent coloring allows you to dye, brighten little or a lot and for a long time, end gray hair, create special effects (wicks, effect only …)
How to dye your hair at home
Dyeing your hair at home can be very easy if you follow exactly a few steps:
Do not dye your hair clean so it will cook and itch your scalp.
Before you start, brush your hair to remove traces of fixing products, dust, etc.
Apply petroleum jelly around the face without reaching the hair to easily remove the dye that may remain on the skin.

Wella's Kolestint

For the color pigments to penetrate the hair more evenly, before applying the coloring cream, use a color preparation balm.
Put on latex gloves, they adapt perfectly and you don't lose sensitivity.
If you want to cover gray hair start where you have more quantity and to lighten the hair, start with the areas where your hair is darker.
Follow exactly the time indications indicated by the dye manufacturer. After the first phase of exposure of the product, you have to emulsify all the hair doing a massage to penetrate.
After the exposure time indicated by the manufacturer, apply a water jet to remove the dye.
Rinse abundantly with cold water to keep the color longer and you can wash as usual.
You can remove dye stains on your skin with the same dye that you used on your hair. Gently rub the stained area with a little of the remaining dye and remove it with a cotton ball and water.
The language of color
In addition to a makeover, what drives us to desire a different hair color from ours? Signature Garnier Has investigated the meaning of hair color. These are some of the conclusions of his study. interesting results:
Blond: It seems to condense a powerful effect on others. Softens facial features. It has two aspects: the angel, which symbolizes purity and innocence and a symbol of childhood. Also the fatal woman, seductive and manipulative.
Black: conveys character, personality and a certain halo of mystery. Black is associated with Latin culture with its connotations of strength, art, and viscerality. Also remember the oriental, the exotic. Black hardens facial features.
Brown: in color it supposes brightness. It is not a reference of seduction or beauty. It has little evocative power, sometimes accompanied by an attitude of fear of change.
Redhead: It transmits exoticism and shares the meaning of seduction with blondes. It also has a bucolic, wild, country dimension … It evokes some ingenuity.
Mahogany:It reflects modernity, although without major transgressions. It is a color created by the coloring market.
Take care of your dyed hair
The color of your hair loses can lose intensity for many reasons: • In each wash the water drags color pigments • An inappropriate shampoo favors the loss of color · Environmental factors damage the color shades.To maintain the color and the hair shine as long as possible, use specific products for colored hair.
Some proposals…
Sublime Mousse, from L'Oreal Paris. Reinvent the application of color because it is a foam that is used as if it were a shampoo. Its result is a very natural color. It comes in 12 shades.
Palette, from Schwarzkopf. Practical, economical coloration and with intense and professional color results without leaving your home. It offers a wide range of 15 bright and intense tones, especially brown and blond, the most demanded by consumers. Its price:
Nordic Blondie, from Schwarzkopf. Specialist coloring in lightening and wicks that provides fascinating and luminous blonde looks, has improved its formulation and incorporates a specially selected conditioner, with a fortifying complex that reinforces the hair for a shiny shine after applying the lightening. The new Nordic Blonde range consists of five products.
Kolestint, from Wella. Permanent coloring and high gloss with full coverage of gray hair. It includes a brightness enhancer with double the conditioner.
Color Protect Shampoo, from Pantene ProV. Specific shampoo to clean and protect dyed hair or with wicks. It is complemented with the entire range, consisting of shampoo, conditioner, mask, concentrated color fixer and instant color and shine spray.
Okara Gloss Sublimating Mask, from René Furterer. The Okara line, formed by shampoo, mask and sublimating shine care, is specially designed to repair, protect and provide a fruity and sweet aroma to the hair. Dyed hair, with wicks, colored or bleached baths is reborn soft, light, with movement and its perfect reflections and nuances.