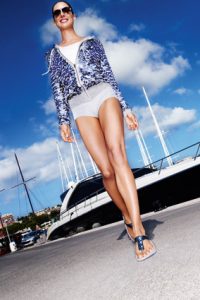 We really like that there are more and more shoes and fabrics that take into account not only fashion trends and aesthetic beauty, but also the real beauty: the one that maintains our health and illuminates our skin and our eyes. Therefore We like FitFlop sneakers and Buff scarves!
For years fashion remained oblivious to the requirements of the body and even altered (and still alters) our health with footwear that causes problems such as corns or juantes and non-breathable clothing or capable of causing allergies, among other problems of all known.
In recent years, however, they have been appearing fabrics and footwear that not only adapt better to our body and our ergonomics, but also offer a plus of treatment: from "moisturizing" socks to "anti-cellulite" shoes.
Of the many proposals appeared, lThe FitFlop sandals are one of our favorites because, honestly, they work! And it is not an announcement, you know that. They are designed with an exclusive and patented midsole (microwobbleboard ™) that tone your muscles when walking. In fact, with this midsole, the experience of walking barefoot in an irregular natural terrain is simulated, which brings multiple benefits: perfecting the posture when walking, improving circulation, reducing the overall impact of the body while providing maximum movement of the bones of the foot, reduce lower back pain, improve the elasticity of the intra-foot and stimulation of the system, reduce cases of plantar pain of chronic foot and reduce stress.
The brand was launched in May 2007 in the United States and Great Britain. Today it is sold in 44 countries and has exceeded 4 million pairs sold. Among his fans is Jenifer López, who even recommends them in his personal blog. But they are not only feminine: there are FitFlop also for men and for boys and girls, with prices starting at € 45. The star of this season is the female Rockstar walkstar, a limited edition with sequins from Swaroski (€ 299.95).
The photo model has the Pietra model of the spring / summer 2010 collection (€ 69.95). The Dass is the classic male model in neoprene (€ 69.95).
Another of our chosen for this summer is the Buff® scarf. The reason is simple: the new collection Buff® filters solar radiation by 95%, which protects the hair, head or neck and prevents problems such as burns in baldness or color changes in dyed hair. In addition, it allows high perspiration, so that the hair and skin do not remain wet if you sweat.
The Buff® scarf is a seamless microfiber fabric tubular that can be placed in more than 12 different ways. Usually associated with cold, the brand does not cease to innovate in its fabrics to adapt to all situations and climates. That is why in summer scarves he has used a fabric (Coolmax® Extreme) that allows very high perspiration. In the spring / summer collection, for example, in addition to the classic tubular scarves with visor in different colors and prints, both for men and women.
The brand was born in 1992 in Igualada (Barcelona) and is now known in almost 60 countries.