The cold is not always the enemy of the skin. From the most glacial climates come active and formulas that provide essential nutrients for regeneration and care. As the snow flower or edelweiss.
Apparently fragile, this flower whose petals seem covered with snowflakes is able to survive more than 3,000 meters of altitude and withstand extreme temperatures.
Although it is possible to find it in the Pyrenees, it abounds in the Swiss, German and Austrian Alps, where it originates from. It is a protected species, since it is the emblematic flower of the mountains and for years it has been taken without control, almost disappearing from some areas. In Spain its collection is totally prohibited. The flowers used in cosmetics, collected by hand, come from crops made in Switzerland. In addition to withstanding temperatures below zero, Edelweiss must fight against extreme solar radiation, low atmospheric pressure, and large variations in humidity and wind, which result in a very dry environment.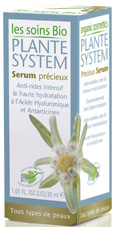 Plant System
Like desert plants, the edelweiss must cope with these climatic aggressions, so that its system of protection against the environment is unique and very valuable. Therefore, its properties include its anti aging action, since it contains assets that protect from ultraviolet rays and fight free radicals that cause aging.
In fact, several recent studies have shown that the anti-oxidant properties of edelweiss are superior to those of other anti-oxidant assets such as vitamin E or retinol (pro-vitamin A). So, edelweiss extract protects the skin from solar radiation, stimulates cell regeneration, attenuates the signs of aging and provides hydration and elasticity. That is why it is part of some cosmetic formulas, especially anti-aging.
products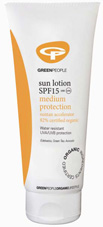 . Bio Serum Précieux Plant System. Serum bio Intensive anti-wrinkle with edelweiss oil, hyaluronic acid and antarcticine (glycoprotein formed by microorganisms from the Antarctic glaciers) that increases the production of collagen and elastin, reduces wrinkles and increases skin firmness. 30 ml € 25.30
. Sun Lotion SPF 15 Greenpeople. Sunscreen bio For body, the sun lotions of this brand that just arrived in Spain contain edelweiss, aloe vera, green tea, avocado, beeswax, geranium, sandalwood and other 100% natural assets, certified as organic and suitable for vegetarians. 200 ml € 29
. Vital Protection Anti-Aging Protective Fluid SPF 50 Darphin. Facial treatment that protects against solar and environmental aggressions, with snow flower, helps to protect against photoaging, protect the skin's natural barrier and strengthen its defenses and reduce the appearance of redness, can be used as a foundation for makeup . 50 ml € 85.
. Diamond Extreme Eye of Natura Bissé. Anti-aging treatment for eye contour and effect lips lifting (tensor), reduces wrinkles and puffiness of bags and dark circles, with edelweiss, water lily and pea extract. 25 ml € 125.