The feet are the base of the body and daily they suffer unnecessary excesses. They are the base on which the weight of the body is supported and often, due to fashion imperatives, they suffer the effects of inadequate and unhealthy footwear with too narrow toes, lasts that press on the foot and too high heels. Skin hardness and thickening are usually side effects of this. We explain how we can prevent or alleviate them.
Hardness and thickening of the skin of the feet
As we have previously explained, a poor choice of footwear can produce thickening of the skin of the foot, but also the rush and poor support can deform the toes and cause hardness and calluses. These not only make your anatomy ugly but they can also cause discomfort that can be painful. A healthy foot is one that leaves a trace that draws a perfect silhouette and that, seen from the heel, is completely straight.
As always, the ideal would be to have no hardness and calluses, but once they have been installed on our feet, we only have one alternative: eliminate them by filing the hardness dry, exfoliating the skin and hydrating it properly, using products specifically formulated for skin prone to hardnesses.
In this sense it can help you: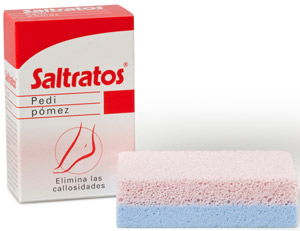 Saltratos Pedi Pómez. Porous glass piece treated with a special finish on each side that acts on calluses on the feet, effectively eliminating them. The pink face is wide and hard pore, for a quick first action on calluses, or for more resistant hardness. The blue face is small pore, to later remove residues and soften the skin. It detaches and drags the dry and hard skin, leaving the skin fine and pleasant to the touch.
Saltrars Cream Hardness. Its regular use eliminates hardness and prevents its reappearance thanks to urea (20%) and glycolic acid (5%), ingredients with proven keratolytic and cell renewal action. It contains nylon micro-spheres that help reduce rubbing with the footwear and therefore the reappearance of hardness. White willow extract provides a complementary exfoliating action.
Awesome gestures
To keep the feet agile, it will be enough to keep an adequate rhythm when walking and taking long walks, with appropriate footwear, supporting the feet well or, if possible, it is best to walk along the seashore, since it combines the effects of walking on the sand with the massage that provides the tap of the water.
After daily hygiene, it is important to hydrate the feet properly. For this, the daily application, by means of a light massage, of a specific moisturizer for feet is recommended. This type of product will help you avoid hardness, which we have already told you about.
It can help you:
Saltratos Plus Cream. Specially formulated for very dry and damaged feet. Provides immediate relief to damaged skin on the feet. Protects and hydrates in depth, restoring elasticity and beauty to damaged feet. Its daily use prevents the formation of cracks and hardness. Its formula has a high content of active ingredients, among which are extracts of Calendula, with antiseptic and anti-inflammatory action, and Jojoba, with a softening and protective action.