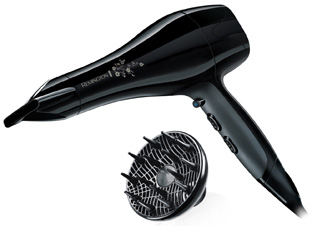 Active Beauty draws 2 pearl Remington dryers
The month of December is that of perfumes and the most elaborate and sophisticated hairstyles, so in active beauty We have prepared the most suitable prizes: 2 curling irons, 2 irons and 2 dryers Remington , but also 3 lots with different feminine fragrance products Eau de Rochas and 6 of Rochas pour Homme. It's not over right?
We invite you to know more details of the prizes and we explain how to get them …
These are the prizes we raffle this month …
Remington irons, curling irons and dryers
To reward, one more month, our subscribers draw 6 Remington teams valued at almost € 360:
two Pearl irons, from Remington. It has an Ultimate advanced ceramic coating with real pearl, which makes the sliding of the plates on the hair eight times softer and that the plates last five times longer than with conventional ceramics. Ready to use in 10 seconds, it has extra long floating plates and a professional rotating cable. In addition, the temperature lock prevents unwanted changes and the thermal bag with mat allows it to be transported safely. Your price: € 89.90


Active Beauty raffles 2 irons and 2 Remington curlers

two

Pearl curling irons

, from Remington. This conical barrel curling iron will help you create soft and loose curls. Its advanced ceramic coating with pearl Ultimate makes the sliding on the hair eight times softer and the product lasts five times longer than with conventional ceramics. It has a cold safety tip, automatic safety shutdown after one hour, temperature lock to prevent unwanted changes and professional 3m rotating cable. In addition, the rapid heating function allows it to be used in only 30 seconds. It includes a heat resistant bag. Its price: € 39.90.
two Pearl dryers, from Remington. A professional device of 2200 watts of power with antistatic grid of advanced ceramic Ultimate and pearl for shiny and frizz-free hair. Its ionic generator produces 90% more ions and has three temperatures and two independent speeds so you can find the one that best suits your hair type. In addition, it has a blast of cold air to give the final touch and fix the hairstyle, a diffuser for extra volume and a 7 mm narrow nozzle concentrator. Your price: € 49.90
Lots

Eau de Rochas

and Rochas pour Homme
We raffle 3 lots of Eau de Rochas
All people who leave a comment or questions in any of our posts or in the tab Beauty Questions They will enter the raffle of 9 Rocher fragrance chests valued at € 546:
3 lots of Eau de Rochas Formed by:

a jar of the fragrance
a shower gel
a body lotion of the same line.
The notes of Eau de Rochas are a tribute to the freshness. A light fragrance at the exit, intense at heart and with a background as vibrant as untamed. A timeless and universal aroma that this year celebrates its 40th anniversary. The price of each of these chests is € 64.
6 chests of Rochas pour Homme Formed by:

a 100ml fragrance bottle
an after shave balm of 125ml.
We raffle 6 chests of Rochas Pour Homme
The chords of Eau de Rochas pour Homme are frscos and woody. A revitalizing and stimulating crop designed for lovers of freshness. The price of each of these chests is € 59.
Precisely linked to the 40th anniversary of Eau de Rochas We want to ask for your collaboration: we would like you to explain to us what your memories are linked to this fragrance. It was probably the first perfume you used during your adolescence, you may resort to some anecdote related to a loved one who used it … We would like you to explain what your memories are related to Eau de Rochas Do you dare to share them with us?
On January 1 we will publish the name of the winners of the different prizes.
Good luck!!!